Who here has watched the Great British Baking Show (aka The Great British Bake Off)? Yeah, me too.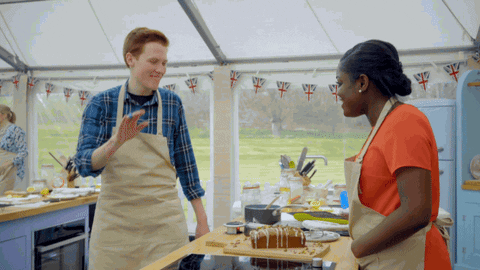 It started in December of last year, when my normal obsession with anything Christmas-related kicks in, and I watched the holiday special version featuring Baby Spice. Then, of course, I watched every other episode I could find streaming. And it got this idea wedged into my head:
I want to learn how to bake.
Now, this seems like a completely futile and silly thing to do, because my mom is an excellent baker and there's a not so tiny voice in my head going "well, you're not going to be as good as her…" But I decided I was fine with that, because it was still something I wanted to learn how to do. Besides, it's not like I was baking for Paul Hollywood, and in my own kitchen, I could pretend that everything I did was so great it all earned a handshake.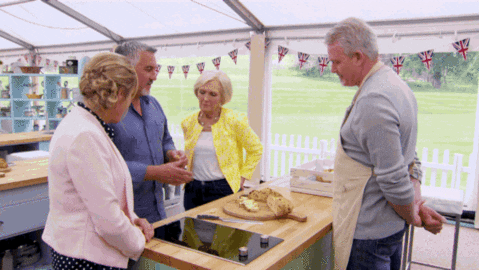 But, the new year started, and even though I sought to embrace new things, I didn't set foot in the kitchen. I mean, other than to, like, scramble some eggs for breakfast or whatever. I did start re-watching The Office again (for, like, the third or fourth time…).
Since I was re-watching The Office, I found a lot of the cast on social media, particularly Instagram. Once I started following Jenna Fischer (Pam), I learned she was currently obsessed with bread baking – thanks, too, to watching Paul Hollywood and the various Great Baking shows! (Celebrities – they're just like us!). She shared that she was using a cookbook by Bonnie Ohara, aka Alchemy Bread.
So, I did what any normal person would do — I ordered the exact same cookbook (and Jenna Fischer's book too).
And then, I took to the kitchen to…bake something I found on Pinterest. *shrug* I'll get to Bonnie Ohara's book soon, I promise, and I'll tell you all about it when I do. But, in the meantime…
With St. Paddy's Day approaching, I decided to go for a twist on something I knew I'd baked successfully once before: Soda Bread. But I found this twist of making them as biscuits by Elyse Bauer on SimplyRecipes.com and decided to give them a go instead.
I was really happy with the results, especially considering the last time I remember baking something was…um…less than ten years ago, but probably not by much. So yay!
Next on my baking adventure list is…well, again, not something from the bread baking book (I'll get to it, I swear!). Instead, I'm making a Chocolate Guinness Stout Cake. It is still St. Paddy's Week, after all!
Are you a fan of baking? Did you also learn to love it thanks to reality shows and actresses from a sitcom you keep re-watching? What are some of your favorite things to bake? Comment here or tweet me at @ThatColette so I can continue to be inspired – and watch for more baking adventures from me here on the blog! (Fingers crossed I have a successful cake to show you soon…)